NIHD's Proven Success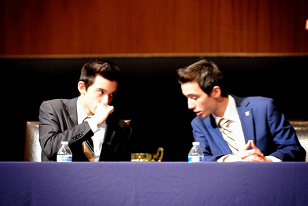 Ladies and gentlemen, the NITOC results are in! NIHD would like to congratulate the following National Debate Champions for their hard work and success -
2016 Team Policy Champions - Justin Holiman/Laura Hempton
2015 Champions



Parliamentary Top Speaker - Joseph Abell


Lincoln Douglas Debate - Grant Garcia


Lincoln Douglas Top Speaker - Joseph Abell


NITOC Tournament Champion - Joseph Abell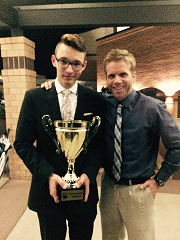 What do every single one of these Tournament Champions have in common?
Well besides being wonderfully talented competitors, they are all NIHD Debate Camp alumni and have received coaching from NIHD Staff & Faculty! That's right, 100% of your NITOC 2015 Debate Championship field have attended NIHD Camps or Workshops hosted by NIHD Coaches. Furthermore, both second place in Team Policy and Lincoln Douglas (Kendrick/Kendrick and Jared Cochrane respectively) are alumni from NIHD camps. Additionally, Joseph Abell received year-long coaching via the VALOR Online Classes presented by NIHD Coaches Griffith Vertican, Brandon Winchel, Manoah Marton, and Luke Marvin.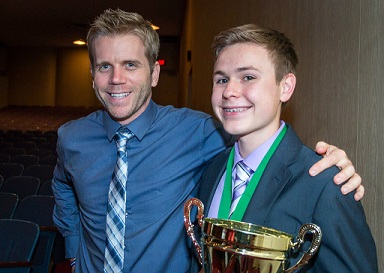 Testimonials
Recommendations from former parents, alumni and participants:
"NIHD was a wonderful experience for me. I met so many amazing people and built friendships that I continue to enjoy today. NIHD was also very helpful at teaching me important debate concepts and additional theory. It helps to be more familiar with all the different arguments that may get thrown at you in a round and my time at NIHD definitely prepared me better for those situations. Lastly, it was also great at helping me become familiar with the resolution. Starting off the season with a knowledge base to turn to is incredibly helpful and NIHD got me thinking about the resolution and planning for the upcoming tournaments. Overall, it was a very helpful experience." - NITOC 2016 TP Champion Laura Hempton
_______________________
_"For me, competitive forensics has always been about community and improving myself. I love competing, but if you have no one to share your accomplishments with, then what's the point? NIHD was a perfect way to combine the two. I felt that the lectures and demonstrations from alumni were more informative and personal than lectures from club coaches who had never competed. What better way to learn impact calculus than from people who have actually done impact calculus? Furthermore, I made a lot of friendships with outstanding people from across the country that I carried into the regular debate season. There is no better feeling than going on to debate close NIHD friends late in outrounds at big tournaments and even NITOC. Getting to see how my friends grew over the season and clashing with them in high-stakes rounds was the best way to measure my own improvement and build upon it. Ultimately, NIHD is a fun and stress-free way to not only improve yourself, but improve the friendships that are what make STOA truly remarkable." - NITOC 2016 TP Champion Justin Holiman
_______________________
_"I heard great teaching-practical and foundational; yet, so rich in info it really would suffice the advanced debater. Not only was the content outstanding, but the delivery was always engaging and funny but far from boring.
I heard moms say they have a better understanding of what debate is all about and the details of how-to. They see how debate can benefit their child in many ways.
I saw the kids get inspired-by the looks on their faces and the level of participation-it was evident that they had hope of debating well. They are already thinking about this upcoming season. They are brain-storming ways to fundraiser to go to the San Diego camp!
I have heard of deep conversations between parents and their children after the POME and Defy the Lies talks. A mom said her son began to talk about some of the things Griffith taught regarding The Last of the Mohicans. Another mom told me that through the week, her boys were heard talking and would often say, 'That is what Coach Griff would say,' or 'Coach Griff talked about that.' These boys saw someone who talked with them-someone serious about following God in the area of purity and the girls saw a new standard in relationships. They were given statistics of how science is upholding what the Bible has said all along and they heard practical ways of guarding their purity. Parents were challenged to be in theirs children's FACE so that the world will not deceitfully draw their hearts away.
I am sure there is much more fruit that will come forth from the seeds that were sown last week. Thank you so much for coming to Georgia and for pouring out yourself unashamedly and whole-heartedly for these families! May God continue to bless you and your ministry!" - Jennifer Brisendine
_______________________
_"I went to the NIHD camp in GA the first year I was going to debate and it was a great experience. As someone who knew very little about debate, I participated in the team policy novice track and was able to learn so much about the fundamentals of debate. The lectures, handouts, research times, and practice rounds were all key parts in preparing me for my first season of team policy debate. The preparation from NIHD camp jumpstarted the season for my partner and me by giving us knowledge not just on how to debate but also the topic for that season. This put us months ahead of people who did not attend. My partner and I went on to have a great first season, earning multiple checkmarks, winning a tournament and qualifying to NITOC. The next summer I went back to NIHD camp and was once again thoroughly prepared to start the season successfully; we got 1st and 2nd place in parli and team policy respectively, at the first tournament with 20+ teams the following November. The coaches, particularly Coach Griffith Vertican and Brandon Winchel, have been tremendously helpful. They are extremely experienced not only as debaters themselves but also at translating their skills into coaching others. Their coaching and the NIHD camp were key in helping my partner and me have another great year of debate, qualifying to NITOC again, and, after breaking multiple times, taking 29th place in team policy and 4th place in parliamentary debate. I definitely recommend NIHD camp. Whether you know nothing about debate or have lots of experience in debate, it will jumpstart your season." - Shayna Seidel
_______________________
Click here to see student Vanessa Seidel's testimonial video.
________________________
_"The National Institute for Homeschool Debate has been invaluable to my success in debate. NIHD helped me to establish a solid basis in debate theory, further my understanding of the current resolution and excell as a communicator. From personal coaching by experienced alumni and coaches to lectures on debating with integrity, NIHD has it all. At NIHD, you will learn how to be a step above everyone else in speaking, strategy and character. After that week, your will never debate the same." -Katie Hillery-
_______________________
_"Entering my second year of coaching in NCFCA, I was looking for an opportunity to educate myself. I am SO glad I decided on Concordia Debate Institute last year. It was incredibly beneficial and well-rounded. Excellent, interactive teaching, lab-time for research, and LOTS of debating...10 rounds. Konrad and Griffith really push the students to think strategically, not just regurgitate the arguments of others. The students had work assigned before camp began, so they were able to hit the ground running. Konrad and Griffith genuinely cared about the students, and inspired them with their passion for academic debate. I would highly recommend it to students, parents and coaches. The Lord really blessed our little club this year. Two teams qualified for nationals... both of them alumni of CDI!"
-Wendee Carr
Rhetoric Debate Coach