The National Institute for Homeschool Debate
presents
"The Biggest and Best Speech and Debate Camps in America!"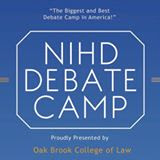 The National Institute for Homeschool Debate (NIHD) is Directed by Attorney and Coach Griffith William Vertican. We are excited to announce our 2018 NIHD Speech and Debate Camp schedule.
Our national level camps include:
10th Annual NIHD Speech & Debate Camp
The Big One
Twin Lakes Conference Center
Lake Arrowhead
August 13th-18th
http://NIHD.homeschooldebate.net
Other camps to be announced shortly.